Estimated reading time:
3
minutes
A new and interesting kind of cyber theft is making rounds in the cyber world. This time the theft involves UPI (Unified Payments Interface) as the medium for tricking innocent victims into losing their money.
The increasing popularity and ease of use of digital payment apps like Google Pay or Paytm have definitely made life hassle free for people of all ages. Making financial transactions for all big and small needs today, is just a matter of click.
But, as they say… Every coin has a flip side to it.
While these payment apps have made life easy for people, they have also opened the gates for new kinds of frauds and scams. The recent incidences of cyber theft using UPI apps is a clear indication of this fact.
It is a common practice for banks to send out SMS and calls, to warn people not to share their bank account details or OTP with unknown people. But, did you know that scamsters can now cheat you even without these details??
Yes, that's right! So, how does this UPI fraud work?
Well, the fraud starts with you listing a product on sites like OLX or Quikr and some fraudster responding to it, pretending to be interested in buying the product. The story is immediately backed by the unavailability of cash-payment option and instead suggesting a payment app like PhonePe or Google Pay app for making payment.
Assuming this to be a genuine reason, you agree to accept the payment via PhonePe. Your confidence in the person becomes stronger when you see the profile pic to be that of an Army man (which actually is a fake profile pic).
Once the fraudster has your confidence, you are sent a collect-call request for the exact amount that you have listed for the product. You are in a hurry to receive your money and simply ignore what the fraudster is actually requesting. Interestingly, as soon as you receive the request, the fraudster calls asking you to quickly enter your UPI pin and hit the 'Pay' button to receive money immediately.
That's the catch!!
What you fail to notice is that you have yourself entered your UPI pin and provided approval for the fraudster to dupe you out of your money.
Experts believe the major reason for such scams to emerge and thrive, is the ignorance or half knowledge that several users have regarding digital payments & transactions. Most of these users fall under the old-age, first-time-user or housewives category, who become easy unsuspicious victims of such frauds and scams out of ignorance.
In wake of the rising incidence of UPI frauds in the past couple of months, many payment apps like Google Pay have changed their user interface, to explicitly show the flow of money and make it easy for users to distinguish if they are receiving or sending money. They also raise an alert in case a "collect request" is received from someone outside the user's contact list or too many requests are raised.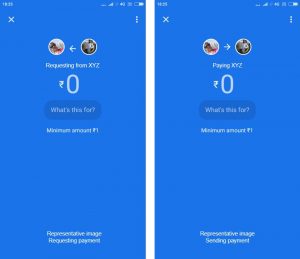 Well, with the number of UPI transactions increasing at a steady rate, it is extremely important that consumers also become aware of fraudulent online transactions and keep their eyes open for things that may indicate fraud.
To begin with, carefully check and recheck every message, popup or request that you receive on your payment app while dealing with a transaction.
Check the direction of arrow to confirm whether you are sending or receiving money.
DO NOT blindly trust profiles of strangers just because their profile information and picture look real.
DO NOT share or enter your UPI PIN with anybody. Remember that UPI PIN is never required to receive money. It is only needed when sending money to other UPI account.
Be absolutely sure before hitting the Pay or approve button on any payment app.
Most importantly, keep a frequent check on your bank account statement for any suspicious transaction.
While these tips and tricks can protect you from becoming a victim of UPI fraud, the best way to secure your phone while making online transactions is to install a mobile security app.
Quick Heal Total Security App comes with SafePe feature that is especially designed to secure your financial information, when using mobile payment apps for online shopping, banking, paying bills, etc. Here are few protective features SafePe offers you:
Checks whether the mobile phone is connected to an un-secure public Wi-Fi network and warns the user.
Checks if the OS of the mobile phone is tampered with, and warns the user about it.
Checks if the mobile device is rooted.
Have something to add to this story? Share it in the comments.